If you are a current Carolina Kennels puppy owner and would like to join our private Facebook page to share pictures with other owners.... go to Facebook
and search for Carolina Kennels. See you there...
---
Caylee Takes a Best in Show on December 1, 2017:
​Jan 9, 2018:
Ch. Dixie Lee
has just whelped the
Ice Palace Litter
with
three girls and two boys.

Dec. 1st, News: Caylee took BEST in Show on December 1st in Courtland, VA. That makes two from Carolina Kennels. Her dad Gibbs took a Best in Show at ten months old and Caylee has fallen into his steps to take a BEST in Show at ten months old. Just mind blowing and so proud of our springeres!!! You cannot do much better than that!!
---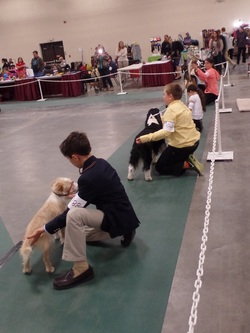 The Juniors Competition lineup by ESS Gibbs and my grandson, Isaih. Nice job!!
---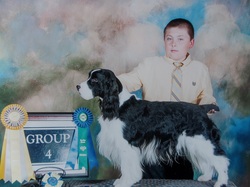 Outstanding job by Isaih and K9 Gibbs

at the Carolina Classic with two Best of Breed wins and a Group 4 Placement in Gundogs Group!!

WOOOO....what a stud! Here are some more pictures below... enjoy.
---
March 29, 2016: Just had to post these amazing pictures of one of our puppies who has entered the arena of dock diving... ESS Jackson under the expert supervision of Leigh Sauls and Astro Kennels makes his debut: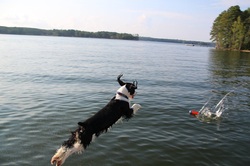 The amazing Jackson practicing his dock diving with his handler, Leigh Sauls!
Springers having fun!
---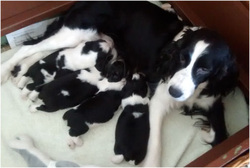 March 16th, 2016: Hello all. If you have tried to contact me within the past several weeks, please try again, as I had a major email crash and had to re-do all my email addresses.
My new email address is:
ncspringers@gmail.com
Hope all is well with each of you. Beautiful spring weather is here in North Carolina.
Carolina Classic: UKC Dog Show is April 8, 9, and 10th. We will be there showing Gibbs, so if you are in the area, please do come out and visit. Bring a lawn chair. Entry is free to come watch. My grandson, Isaih, will be showing Gibbs at this show. Hickory, NC. If interested in showing one of yours, visit www.ukcdogs.com to get a temporary UKC Registration number for your dog if you do not have one, and download the entry form. Need help? Give me a call. First show is at 5:30 pm on Friday. Then two shows each on Saturday and Sunday. The first show starts at 9 am each day on Sat and Sunday with the Junior (Isaih) handling the dog. Then the first Conformation show starts directly after that and a second show comes after the first show is completed each day...so a total of five shows on those three days. Wish us luck! www.ukcdogs.com
---

Merry Christmas to all...may God bless each of you with good health and happiness in the coming year.


Love,

Christy and the Crew here at Carolina Kennels


Lauren, Gibbs, Lacey, Gypsy and Dixie.

---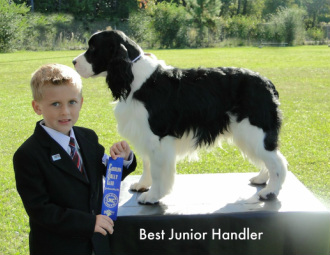 November 14-15, 2015

My youngest grandson, Eli, showed in his first dog show this past weekend doing fantastic...in the Juniors division he earned four blue ribbons at five-years old!!! Looked so sharp and professional. I am really proud of Eli!! Great job, buddy!

Gibbs went on to take Reserve Best in Show (which means runner up) and we were thrilled!!!
UKC Carolina Bully Club, Jacksonville, NC. See the home page for more photos.

---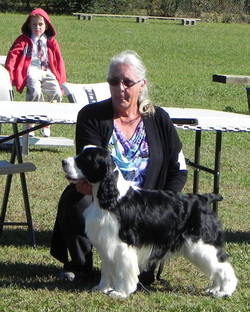 November 15, 2015
Jacksonville, NC - Carolina Bully Club



Gibbs in the ring!
One group two, three group threes, and Reserve Best in Show!!

What a great weekend!

---
October 23, 2015: It just does not seem like so long ago that we did our last update...but time flies. It was a hot summer and we sadly lost Ringo to the Rainbow Bridge. in August He was the temperament to strive for and such a good boy!! We will miss him. They never quite stay around long enough...

Auggie, Ringo's son, joined the Fisher family...so they do have his bloodline and disposition to love for many years to come. Watch for his pictures to be added to Our Springers link soon.

We have not been to any shows lately...but have done tons of search and rescue training and getting settled back in Holden Beach/Supply, NC. We survived all that water flooding about a week ago with no damage and lots of luck. All is well at Carolina Kennels.

We are wishing everyone a safe and happy holiday season as Thanksgiving and Christmas approach...seems just like yesterday the last one went by. Surely, we will post again this year. Springer hugs to all.


April 13, 2015: Oh, my gosh, what a fantastic weekend. Isaih and Gibbs just knocked it out of the park at the UKC Carolina Classic Dog Show in Hickory, NC. Gibbs took Three BEST of BREED wins and Isaih took BEST Junior Handler on Sunday! WOO-HOO...we had a good weekend and brought home a lot of ribbons! So proud

Please do NOT use TRIFEXIS with any Carolina Kennels Springers.... read more here

March 17, 2015: Dixie is busting at the seams and we are looking at Friday for a possible whelping date. Today she had her pre-whelping spa day with a haircut, nails, and a bathe. We are ready.....check the puppy page for any updates.

---
March 3, 2015: Yup, it looks like there are buns in the oven and we will be having a litter about March 20th. We are so looking forward to that little puppy breathe!!!

Come see us at the UKC Carolina Classic Dog Show on April 10th, 11th and 12th in Hickory, North Carolina at the coliseum. Friday evening the show starts at 5:30 and there are two shows on Saturday beginning at 9 am. Then we will show in one show on Sunday morning at 9 am. Isiah, my grandson will show Gibbs. Stop by and say hi if you are in the area.
_______________________________________________________________________________________________________________________
________________________________________________________________________________________________________________________

February 7, 2015: Hope all is well across the USA! We are all doing well and looking forward to showing in a UKC show tomorrow/Sunday. Isaih will be showing Gibbs in Juniors and Regular Champion class in Lumberton at the Fairgrounds at 9 am. Drop by to see us if you are in the area.
Search training continues regularly with Gibbs demonstrating he is definitely up for the challenge and doing quite well.

Watch for our latest book... How to Train a Human Remains Detection Dog to be released this month. It follows the 2014 release of Training a Search and Rescue Dog For Wilderness Air Scent . I think I will take a break from writing for a while...grin. Check www.christyjudah.com for more information there. But know that the Human Remains book is not for the light of heart to read....pretty heavy. Better to read the English Springer Spaniel Puppy book for pleasure........

Cheers....


January 1, 2015: Hello everyone. Sure hope all had a wonderful Christmas and safe New years and that this year is filled with health, wealth and happiness for all of you.

We can announce that Gibbs participated in his first real search on Christmas Day and the day after Christmas and made me very proud. He did very well....what a Christmas to remember.

We will be showing Gibbs at the ESS Specialty in Lawrenceville, GA the middle of January...so wish us luck! Isaih will also be showing him in the Juniors Division. Wendy will also be showing Beau at the GA show...AKC.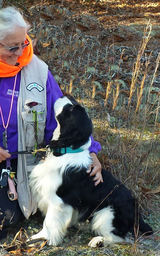 November 15, 2014: CONGRATULATIONS TO ALL-TIME'S CAROLINA NCIS... aka "Gibbs"

On Nov. 5, 2014, Gibbs passed his Search and Rescue Wilderness Air Scent and Human Remains Detections Certification Exam. It was a cold and breezy day here in the Carolina's but Gibby got the job done in short order!!

We are so proud of Gibby who will now serve with the Brunswick Search and Rescue Team as a Search and Rescue dog to help recover lost and missing persons.

Way to go Gibby!!
---
October 30th, 2014: Please read the article on the dangers of Spay and Neutering..
click here:
Spay - neuter article
Finally, some research showing all the reasons NOT to spay and neuter...cancer, hip dysplasia, etc.
But always, always keep your dog from unwanted pregnancies and unwanted puppies.....it is the responsible thing to do!! Happy Halloween!
October 14th, 2014. We are sad to announce that Kaitlynn went to the Rainbow Bridge on October 8th, at 14 years of age. Jenny and the family will miss her dearly. She was one of the first search and rescue dogs for the Brunswick Search and Rescue Team. Run free, dear Kaitlynn, with your mom and dad, Bailey and Scully. It is so hard to say goodbye. August 14, 2000 - October 8th, 2014.


October 10, 2014: Well, finally the pictures came in and we can announce that Gibbs did extremely well in Hickory at the UKC Shows the end of Sept/beginning of October, 2014. We entered three shows and he placed Group 4 in ALL three shows!!! Way to go Gibby...you did a nice, nice job!

Here is the boy with his winning photographs: (yeah he had his ears in the water bucket...grin)


September 15, 2014:

We are planning to be at the UKC Show in Hickory, NC the last weekend of this month. Gibbs will be showing. If you are in the area, please do stop by to visit. We will also be at the New Hanover AKC Show in Wilmington, NC the middle of October. Gibbs and lauren will be there with me.

Had a blast with Gibbs this past Saturday at a celebration for Heros...our team was invited to be honored and we participated in Helicopter Operations training with the Brunswick County Sheriff Department...fun!!


June 22, 2014: Gypsy has retired from search and rescue...as of June 21, 2014. She has served over 10 years in search and rescue and has some nice finds to her name....to read more about her retirement....
click here
. She will be turning 11 years old soon.....hard to believe._ Update..... well, almost retired but still getting called out for drownings.....___________________________________________
April 6, 2014: WOW...just got back from the UKC Carolina Classic Dog Show in Hickory, NC and brought back a new champion! Dixie is now Champion Carolina's Dixie Lee.....she finished her championship handled by my grandson, Isaih who did a beautiful job showing her in breed and in the Gun Dog Group! Isaih is 9 yrs old and did a fantastic job with Dixie this weekend. Good job, Isaih!!
__________________________________________________________________________________________________________________

March 23, 2014: The move is complete and we are back in Brunswick County, lock, stock and barrel...or should I say, dogs, kennels, and puppy chow!! We are back in the swing of things, although very busy unpacking!

New location will be near Holden Beach. Hope all is well with everyone....we are all fine and looking forward to the sand and sea again.

We are planning to attend the UKC Carolina Classic Dog Show in Hickory the beginning of April. Drop by to say hello...