BIS UKC Ch. Gibbs,, WAS,HRD Ch. Gypsy, WAS Bailey, WAS (at the bridge) Ch. Lauren, WAS Ch. Dixie
Carolina's Whistling Dixie.... male puppy available for adoption. Born June 3, 2017.
Click here for an application and return to ncspringers@gmail.com
​Carolina's Whistling Dixie, male, shown above, is available for adoption. If interested, please submit an application. Born June 3, 2017. sire is a UKC Best in Show Champion and mother is a champion. Father is also a certified working search and rescue dog. Contact us for moreinformation. ncspringers@gmail.com .
---

Congratulations to All-times Carolina NCIS, aka Gibbs, and Isaih, on two Best of Breed Wins and one Gun Dogs Group 4 placement this weekend at the Carolina Classic in Hickory, NC.

Great job by both Isaih and Gibbs!! Both are sooooooooooo handsome!!!!

Gibbs will now retire from showing and concentrate fully on his Search & Rescue work, finding the lost or missing person. We are so proud of both Gibbs & Isaih. 11 years old and competing against the adults in Breed and Group Competition
---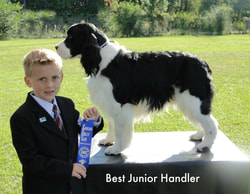 UKC Show, Carolina Bully Club, Jacksonville, NC - Nov. 14 - 15, 2015.


Ya just gotta love that five year old grandson, Elijah, showing in his first dog show in Jacksonville, NC this past weekend.....five years old and earning four blue ribbons as well as Best Junior Handler!! Woo-hoo Eli, you are a star!!




---



Then we earned all the group placements and stacked for the BEST in Show competition....the boy did good. We took Reserve BIS and were thrilled!!!

Ch. All-time's Carolina NCIS...aka Gibbs.

---




Reserve Best in Show

- Carolina Bully Club, Jacksonville, NC Nov 16, 2015

---
UKC Show, Carolina Bully Club, Jacksonville, NC - Nov. 14-15, 2015.

All-Time's Carolina NCIS, aka Gibbs, receiving Reserve Best in Show!!!! WOW......great job Gibby!

In four shows, Gibbs earned three Group One (Gun Dogs) Placements, one Group Two (Gun Dogs) placement and the prestige Reserve Best in Show~~~~!!!!!! We just love that boy! Stay tuned for the professional show picture soon...

Thank you Judge Glenda Bruneau!!!


CLICK ON ANY PHOTO BELOW TO SEE THE FULL SIZE VERSION.....

---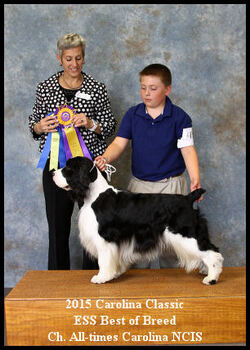 Carolina Classic, 2015, Hickory, NC


Wow, Isaih does it again! Best of Breed four times at the Carolina Classic UKC Show.

Isaih has earned the rank of #11 Junior Handler in the nation in his class.

Am so proud of him for what he does with Gibbs!

---



Woo-Hoo.... congratulations to Isaih and Gibbs.... Three Best of Breed Wins at the UKC Carolina Classic in Hickory, NC on April 10-12th, 2015 and Isaih awarded the BEST JUNIOR Handler on Sunday! Woo hoo....we did good! Go to the Latest News page for more pictures. Yup, we bad!!!

---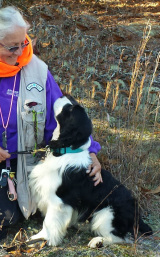 CONGRATULATIONS TO ALL-TIME'S CAROLINA NCIS... aka "Gibbs"

On Nov. 5, 2014, Gibbs passed his Search and Rescue Wilderness Air Scent and Human Remains Detections Certification Exam and on Christmas Day, 2014, he was summoned for his first real search. It will be a Christmas Day to remember.....and no shopping the day after Christmas as we were still searching...Gibby did well.

We are so proud of Gibby who will now serve with the Brunswick Search and Rescue Team as a
Search and Rescue dog to help recover lost and missing persons with Christy as his handler.

You make us proud Gibby!


Here is a typical week with us training for search and rescue with the Brunswick Search and Rescue Team: Sept 22, 2015:

You will note in the middle photo (with Cynthia driving) that Gibbs prefers the "look over the shoulder of the driver" seating technique!!! And below that in the slideshow..our water training at Appomattox, VA late September 2015, learning to find drowned persons.

---
Carolina Kennels - AKC English Springer Spaniels

We are located in southeastern North Carolina and have been in springers for the past 25 years. We have served our community and state by training search and rescue dogs and occasionally show in AKC and UKC Dog Shows.
_______________
Announcing.........................our latest news.....................

Gibbs takes three Group 4 Placements
in the Carolina Classic UKC SHOWS...Hickory, NC.
Sept/Oct 2014
Thank you Judges, Linda Reece, Tami Hayden and Tracey Kallas!!
------------------------------------------------------------------------
Questions about spay and neuter decisions.? ...READ THIS ARTICLE FIRST.....


---
---
Ch. Alltime's Carolina NCIS, "Gibbs" winning BEST IN SHOW in Virginia in the Mid Atlantic Kennel Club Show in April 2013.



Ch. Carolina's Dixie Lee



Isaih, my grandson, finished Dixie to her Championship at the Carolina Classic, April 4, 2014.

Way to go little Dixie and great job Isaih, showing Dixie in three Group showings!

As of today, Mar 21st, 2015, Isaih is ranked #18 in Jr Novice Handlers for the UKC!

We are proud of you both!




---
The English Springer Spaniel Puppy





Everything you wanted to know to select, get ready for and raise a healthy and happy springer puppy.

How to groom

How to train basic obedience

How to socialize

How to house train

Preparing your Home and Yard

Communicating with your new puppy.


Order your copy below:




---